RUBBISH REMOVAL DINGLEY VILLAGE
Offering fast and reliable rubbish removal in Dingley Village and the surrounding areas, make Rambo's Rubbish Removal Dingley Village your number one choice when you're looking around for rubbish removal services.
From green or garden waste removal, office rubbish removal to builder's waste clean ups, we do all the hard work for you.
Rambo's Rubbish Removal Dingley Village take pride in offering a rubbish removals service in Dingley Village and surrounding areas that is affordable, convenient and suits the needs of both commercial and domestic clients.
Are you looking for reliable and affordable rubbish removal services in Dingley Village?
PROFESSIONAL RUBBISH REMOVAL DINGLEY VILLAGE
RESIDENTIAL RUBBISH REMOVAL
Shed / Garage Clean Ups
Garden Waste Removal
Whitegoods Disposal
Deceased Estate Clean Ups
Renovations Clean Ups
Old Furniture Disposal
COMMERCIAL RUBBISH REMOVAL
Builder's Waste Clean Ups
Rental Property Clean Ups
Office Rubbish Removal
Warehouse Clean Ups
Deceased Estate Clean Ups
INDUSTRIAL RUBBISH REMOVAL
Rambo's Rubbish Removal Dingley Village can remove all types of construction rubbish (other than asbestos) timber, plasterboard, metal, bricks, rubble and more.
RECYCLING
To limit the impact on the environment, we recycle wherever possible. However this is not always possible if the recyclable items have been combined with other waste. Do your bit and keep your rubbish separate.
We can collect a wide range of rubbish on your behalf from old furniture, soil for garden makeovers and even hazardous waste materials. We can remove the rubbish you want, from where you want and at the time you want.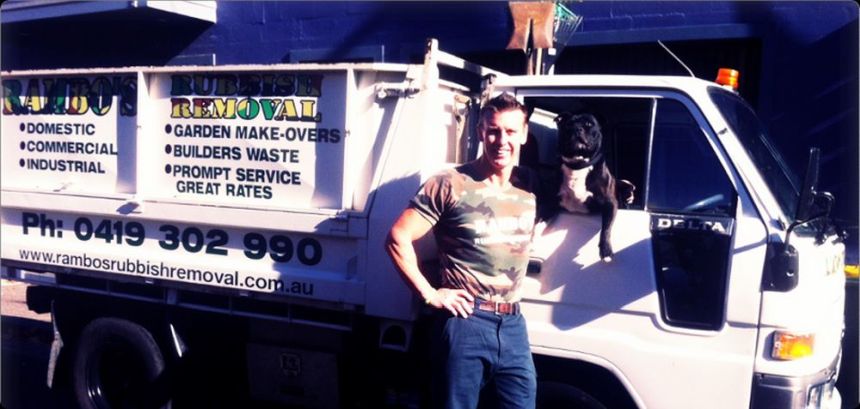 LIGHTNING FAST RUBBISH REMOVAL IN DINGLEY VILLAGE BY RAMBO'S RUBBISH REMOVAL
Rambo's Rubbish Removal Dingley Village remove all types of rubbish & waste. Our truck holds approximately 5 – 6 metres of rubbish. With the cost generally cheaper than hiring a skip bin, you can avoid all the heavy lifting and let us do all the rubbish removal work for you. We even sweep paths!
Being a small, local operator, we are a reliable and cost effective solution for cheap, fast rubbish removal. For over 10 years our highly-satisfied, loyal and regular customer base has been relying on us to keep their homes and businesses tidy and rubbish free. Our customers come back, time and time again.
Rambos Rubbish Removal offers a wide range of rubbish removal services throughout Bayside and the South Eastern Suburbs of Melbourne. We provide rubbish removal, garage and shed clean up for domestic, commercial and industrial clients.
FULLY INSURED AND FREE ON-SITE QUOTES.
PAYMENT
We accept several forms of payment which can be arranged when booking your job.
We offer complete rubbish removal services no matter how big or small the job is. Give Tony a call!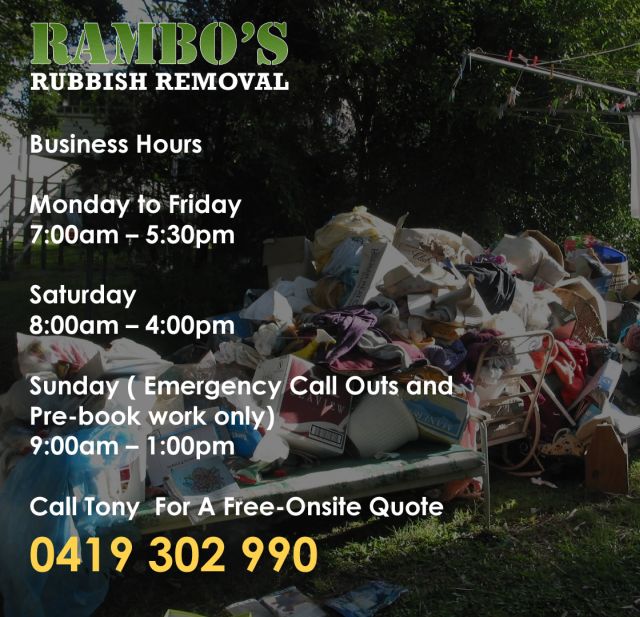 RAMBO'S RUBBISH REMOVAL DINGLEY VILLAGE | NO RUBBISH TOO BIG OR SMALL
Rambo's Rubbish Removal are here to make your rubbish removal simple and stress free. All you have to do is call us for a free quote and let us take care of the rest.
If you are looking to throw out old furniture, shed or garage clean ups, dispose of rubbish or garden waste then we are here to help. No job is too small for us!
At Rambo's Rubbish Removal, we deal with all types of the rubbish and can handle them all without any difficulties.
Rambo's Rubbish Removal Dingley Village offer a very professional, fast and efficient service. We clear all rooms including garages, sheds, office, buildings, deceased estate etc.